At this afternoon's Agency Appointment Ceremony, Thu Thiem River Park, LLC (TTRP) announced the strategic sales partners for its premier riverfront project, The River – Thu Thiem.
Taking place at the Project sales office, which will be opened after Tet, the event attracted several key investors and members of the development team and chosen agencies – Smartland, Gia Phat Land, Hana Home and Phu Hoang Land – underscoring the mutual trust and understanding to be expected going forward.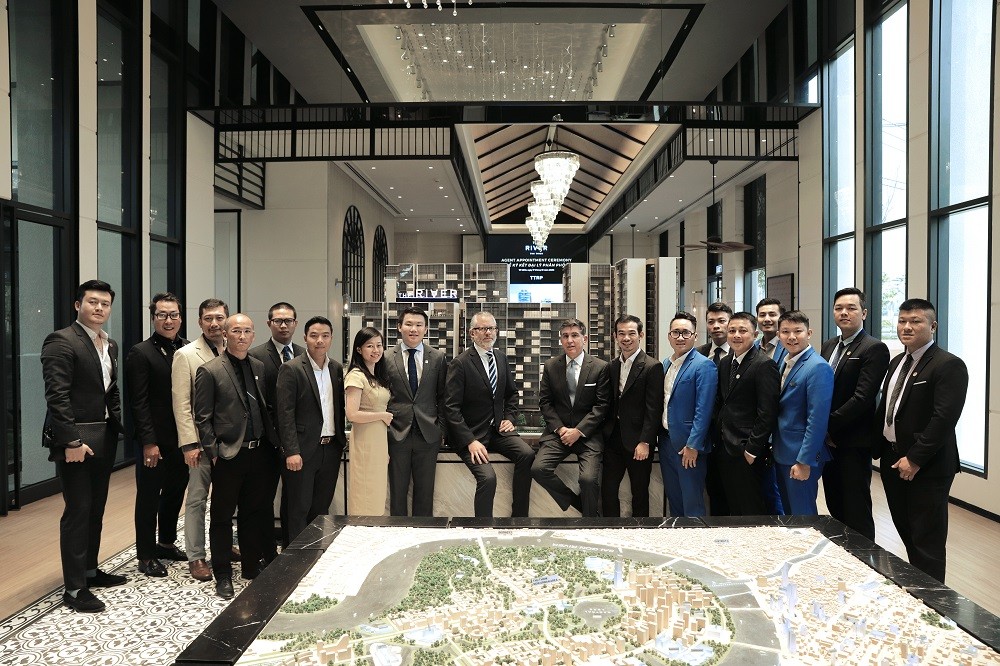 At the Ceremony, representing TTRP, Mr. William Towne Baker said: "It's exciting to be able to develop a project in Ho Chi Minh City's most sought after new area in wonderful cooperation with Khu Bac Thu Thiem (KBTT). Having delivered projects in this City and Hanoi for nearly 20 years, it's an honor to continue doing what we love with The River – Thu Thiem, we will apply our seasoned expertise to deliver a new, unsurpassed level of quality and aesthetic relevance, benchmarking a luxury lifestyle and functional living space in District 2's much anticipated riverfront neighborhood."
Located at Crescent Boulevard on a more than 15,000 m2 land area facing the Saigon River and surrounded by the Thu Thiem 1 estuary, The River – Thu Thiem boasts a prime location in the heart of the Thu Thiem New Urban Area – one of the few residential sites with direct river frontage. Owners will enjoy a waterfront view and direct access to a riverside park as well as benefit from the convenience of a well-connected transportation network to all other socio-economic centers.
Designed by Singaporean DP Architects, a highly awarded design company whose architects and interiors are known for being accomplished and dedicated, The River – Thu Thiem will raise the bar of luxury living spaces in Ho Chi Minh City to a new level.
The project comprises 525 apartments, including Penthouses, Pool Villas as well as 1-, 2-, 3- and 4- bedroom units, with more than 3,000m2 commercial space. Thoughtfully designed within a complex of unsurpassed facilities and amenities, community centers, boating facilities, cafés and restaurants, and surrounded by international schools, medical centers, administrative centres, The River – Thu Thiem is sure to deliver a lifestyle and community that its owners expect and deserve in a prime location in one of the most desired areas in Vietnam.
Prospective buyers and investors can look forward to the very first release of The River – Thu Thiem in the second quarter 2020, although initial expressions of interest are already being received by the project's agents.
Source: https://leisure-travel.vn/leisure-news/thu-thiem-river-park-appoints-sales-agents-in-preparation-for-public-launch/
Load more...