Currently, there are approximately 400 investors showing interest in this project, with 100 of them being foreign investors, reported the representative of the developer City Garden Thu Thiem.
This high demand is typical of housing developments at Thu Thiem over the past few years. The director of a development close to The River has shared that even when the project is completed, he will not be able to purchase an apartment as he is deep down the waiting list.
Thu Thiem – the new goal of central housing
Many projects in Thu Thiem are being developed by well-known groups such as The River by City Garden Thu Thiem, Sala City by Dai Quang Minh, and Empire City by Keppel Land.
Occupying 657 hectares of space, Thu Thiem is located on the south side of the Saigon River and is only 300 metres from District 1 across the river. Three quarters of the area is bordered by the Saigon River, facing districts 1, 4, 7 and Binh Thanh district. The remaining side borders District 9. Thu Thiem offers many advantages as a new urban area.
"Contiguous to the downtown area, Thu Thiem possesses special conditions taking advantage of the active economic development in Ho Chi Minh City. The location is ideal as a new commercial centre that is truly irreplaceable in Vietnam, and to a greater extent Southeast Asia. This explains why projects in Thu Thiem always attract buyers, regardless of the situation," said Haig Conolly, Sales and Marketing director of The River.
The River, a project developed by City Garden Thu Thiem, is located on the rim of Thu Thiem new urban area. It offers direct access to the almost 4ha riverside park and enjoys almost 100m riverside along with a straight view to the Saigon River.
According to Conolly, along with major locational advantages, the project is a special point of pride for the developer City Garden Thu Thiem, a team which has been involved in landmark projects across Ho Chi Minh City such as City Garden and Ho Tram Sanctuary, among others.
A new green centre in development
Thu Thiem's development has received professional guidance from US-based architecture firm Sasaki. As spelled out in the urban master plan, Thu Thiem will dedicate 42 per cent of its area for green areas and water surface, 24 per cent for traffic infrastructure, with the rest earmarked for residential, commercial, and administrative areas. In other words, a closeness to the environment, sustainability, and carefully managed development will be the guiding principles of Thu Thiem.
While evaluating Thu Thiem's urban planning scheme, Le Quoc Binh, CEO of Ho Chi Minh City Infrastructure Investment JSC (CII), a firm with nine projects in the area, commented that in terms of visual appeal, Thu Thiem has a clear edge on its competitors in Vietnam and even Southeast Asia. Sasaki designed Thu Thiem unfettered by historical constraints, without the need to follow or build around already existing constructs. Leveraging Sasaki's tremendous imagination and experience, Thu Thiem is expected to attract domestic and overseas investors with its location and magnificent scenery.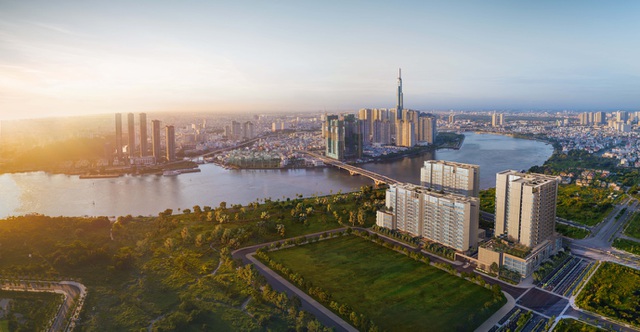 "New projects are required to follow the meticulous urban planning from the beginning as well as strict management of architecture, construction, and population density," Connolly explained. "The River covers an area with a relatively low population density, with the completed project only having 525 apartments in three towers, with heights ranging from 12 to 18 floors. This helps create a luxurious living space, with a suitable number of apartments, absolute privacy for residents, and top-of-the-line facilities in both the inner and surrounding areas. Green areas will be utilised to the fullest in the living spaces."
Harmonising with the green urban planning of Thu Thiem, The River carefully utilises the green spaces in its design. Building upon the success of the living space resort from City Garden, the scenery and facilities will be developed by three experienced and well-known contractors: Elements for green spaces, DKO for residential facilities and ASA for lighting.
The scenery of an urban area is affected by its traffic infrastructure, green parks, quality of housing, population density, and the potential of commerce. Aesthetics, culture, and respect for nature are three areas increasingly central to the design of all high-end developments. Thu Thiem – and especially The River – will combine all these factors to its central location in Southeast Asia's most dynamic up-and-coming city.
In the very near future, investors and buyers vacillating between District 1 and Thu Thiem will most certainly be swayed by Thu Thiem's spectacular scenery. "In about 10 years, Thu Thiem won't be any different from District 1," said Binh from CII. If the urban plans are followed faithfully, Thu Thiem could even be the more attractive choice.
The River Thu Thiem:
525 luxury apartments located on Line 1, Thu Thiem New Urban Area
Unobstructed view of the Saigon River with direct access to 100m waterfront and 3.7ha landscaped parkland
Developed by City Garden Thu Thiem – the reputable developer of City Garden
Website: theriverthuthiem.vn